Abortion is a human right not a crime!
By Dinah Musindarwezo, Executive Director of FEMNET– African Women's Development and Communication Network
Contrary to popular belief Abortion is not illegal in Africa; it is either restricted or protected by the law. There isn't a single country in Africa that denies abortion completely.  In progressive jurisdictions including Mozambique, Tunisia, South Africa and Cape Verde abortion is allowed on demand.
In the rest of the countries on the Continent, abortion is allowed under specific circumstances.  These include; saving a woman's life, preserving a woman's physical or mental health, if the pregnancy is a result of rape or incest and / or for social-economic reasons.
African Leaders Recognize Abortion as a Right
On this international day on September 28th reserved as the Global Day of Action for Access to Safe and Legal Abortion, I would like to remind us that abortion is a human right and not a crime. African leaders recognized this when they adopted an African legal instrument: Maputo Protocol which among other rights guarantees African women with the right to access safe and legal abortion in circumstances of sexual assault, rape, incest and when the pregnancy endangers the mental and physical health of the woman or the life of the woman or the foetus.  The intention of Maputo Protocol is to give African Union Members States the minimum standards to inform national policies and laws. To some extent countries have aligned their national laws to Maputo Protocol. However, there many countries whose abortion laws are below the minimum standards. Examples of such countries include; Central African Republic, Congo (Brazzaville), DRC, Egypt, Gabon, Guinea Bissau, Madagascar, Mauritania, Sao Tome and Principe, Senegal, Côte d'Ivoire, Libya, Niger, Somalia and South Sudan which permit abortion only to save the life of a pregnant woman.
Progressive Policies a Good Step but not the Solution
It is important to point out that although progressive abortion laws is a pre-condition for accessing safe and legal abortion, countries with progressive laws in place have not necessarily translated to women accessing safe abortions. This is mainly due to stigma informed by religious and cultural norms and the growing organized anti-choice movements penetrating African societies.  These factors have also created barriers to passing progressive abortion laws; a case in point is Sierra Leone where the President refused to sign the Abortion law passed by the parliament because of the pressure from religious groups. The recent United States Global Gag Rule will also affect access to safe abortion by decreasing funding available for abortion advocacy and abortion health care.
Criminalization doesn't Reduce Cases of Abortion, it only Drives Women to Unsafe Options
Arguments for not passing progressive abortion laws have primarily focused on the assumption that it will bar women from carrying out abortions. Yet according to the World Health Organization (WHO), abortion rates are similar in countries where the procedure is legal and in countries where it is not. The only difference is that women in countries where abortion is restricted will carry out unsafe abortion thereby risking their lives or being exposed to life threatening complications.
There is evidence showing that rates of unsafe abortions drastically go down in countries where abortion is legal. For example in South Africa, where the abortion law was liberalized in 1997, the annual number of abortion-related deaths fell by 91% between 1994 and 1998– 2001.
According to the Guttmacher Institute, at least 9% of maternal deaths in Africa were due to unsafe abortion in 2014 and about 1.6 million women are treated annually for complications from unsafe abortion.
Solutions are available
It is possible to save women's lives when we treat abortion rights as human rights and put women's lives at the centre of our policy making and practices. Governments can save lives women by:-
Putting in place liberal laws that allow women to access safe and legal abortions when they want to. This includes ratifying Maputo Protocol with no reservation on Article 14 for those who have not ratified and to lift the reservations on the same Article for those with one.
Increasing access to modern contraceptives and ensuring comprehensive sexuality education for girls and women.
Increasing resources for Sexual and Reproductive Health and Rights focusing on both the provision of services and support for advocacy related programmes for abortion rights and services
Putting in place guidelines for providing abortion related services and training service providers
Addressing stigma related to abortion by raising public awareness and carrying out research that show the implications of unsafe abortion on women.
Collaborating with CSOs including Women's Rights Organizations and Young led Organizations in guaranteeing the right to safe abortion and Sexual and Reproductive Health and Rights in general.
FEMNET will continue mobilizing Women's Rights Organizations in Africa to hold Governments accountable to guaranteeing women and girls' bodily integrity and autonomy including abortion rights to African women. We join the global campaign on 28th September to resist patriarchy and other systems of oppression that continue to treat women as second hand citizens and in some instances as property by denying them their rights. We persist in collectiveness and remain in solidarity with all the women who are forced to undertake unsafe abortion.

……………………………………………………………………………………………………………………………
About the Author
Dinah Musindarwezo is the Executive Director of FEMNET (the African Women's Development and Communication Network), a pan-African membership organization working to advance women's rights and amplify African women's voices across Africa since its inception in 1988. Dinah Musindarwezo is a gender and Development Expert with more than ten years of experience working on issues of gender and development, women empowerment and women's human rights at national, continental and international levels. Dinah is a feminist who is passionate about advocating for gender justice and equal rights for all.
Connect with Dinah at director@femnet.or.ke  and/or @DinahRwiza

---
Related Posts
The COVID-19 pandemic is a menace posing a threat to everyone, in every society. As of 2nd April
Learn More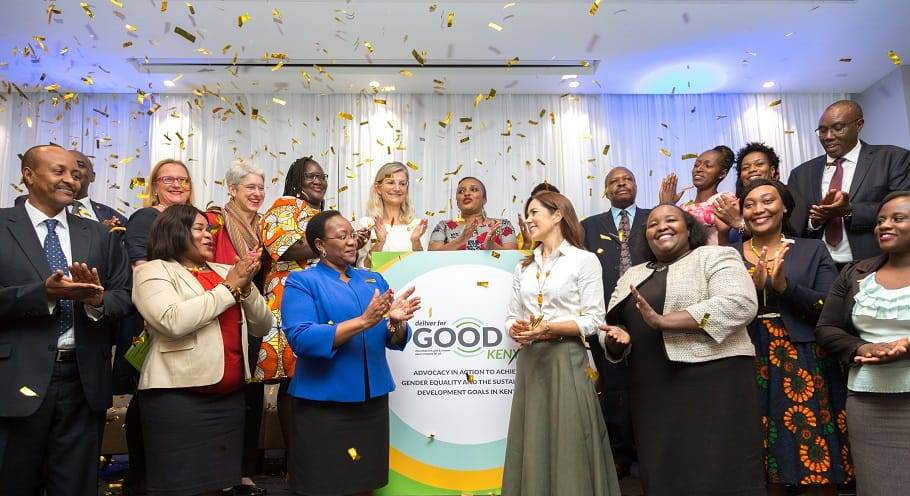 Dear Members, Partners & Friends, Happy & Spectacular 2019! I'm excited and truly grateful for your unwavering support
Learn More