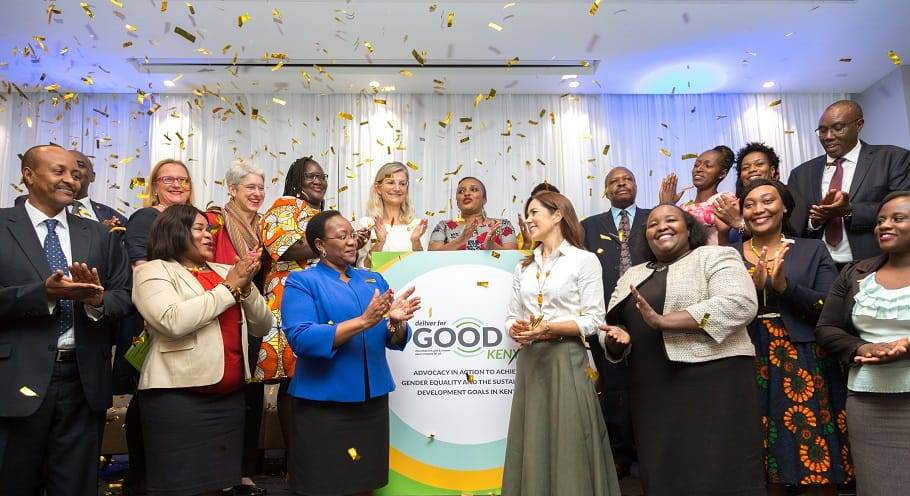 FEMNET 2018 Highlights
Dear Members, Partners & Friends,

Happy & Spectacular 2019! I'm excited and truly grateful for your unwavering support and commitment to collectively realize FEMNET's vision to achieve gender equality and ensure African women and girls enjoy all their rights and live in dignity. Since June 2018 when I took on the mantle of leading this powerful pan-African feminist network, together we continue to make progress against persistent opposition and shrinking space. We will continue amplifying the voices of women and girls and consistently ensuring that the women's rights agenda is at the fore of local, national, regional and global decisions and organizing. We will also partner with you our members and partners in dismantling power structures and systems that legitimize and normalize the oppression of women and girls. Below are our 2018 highlights. We invite you to continue on the journey with us.

FEMNET @ 30: The Journey Has Been Worth It !


FEMNET turned 30 years in 2018. Throughout the year, we constantly reflected on the FEMNET journey and the milestones resulting from our solid commitment to positively change the lives of women and girls in Africa. The solidarity and sisterhood from our over 600 members and diverse partners and allies greatly contributed in co-creating the future we want and must have for women and girls in this resourceful continent. As one of the largest feminist pan-African network, FEMNET continues to unflinchingly disrupt persistent patriarchal norms and practices that are stumbling blocks of achieving gender equality and honoring the promise of  realizing the rights and dignity of women and girls.
2018 was significant for FEMNET as we reflected on our footprints and impact under the five-year strategic plan (2014-2018). At the Secretariat, we were joined by Josephine Wangari, M&E Officer, Laura Origa, Finance Officer and Irene Muchomba, Capacity Building Officer. We also welcomed our new Executive Director Ms Memory Kachambwa whose clarion call for African women and girls is to "Stay on and not let go of the struggle because the work is not yet done". The Board continued providing strategic direction and leadership to the Secretariat. We acknowledge the support and commitment of our development partners in journeying with us.

2018 Highlights
As the year began, we continued to mobilize our members to influence the 30th AU Summit, urging African leaders to undertake a proactive role in eradicating corruption to achieve greater gender equality in Africa. Corruption is detrimental in widening socio-economic inequalities, especially gender inequalities. FEMNET's Policy Brief (2018) provides a gendered analysis and outlines practical actions for combating corruption. To continue providing expertise on the impact of corruption on women's rights, FEMNET in partnership with the AU African Governance Architecture (AGA) and other partners co-convened the High-Level Dialogue on Democracy, Human Rights and Governance (DG Trends) and the Gender Pre-Forum. 

During the UN 
62nd Commission on the Status of Women
, (CSW62) whose theme was "
Challenges and opportunities in achieving gender equality and women's empowerment of rural women and girls", 
FEMNET led in mobilizing and linking local, national, regional and global activism to influence the outcomes of the CSW62.  FEMNET challenged the use of language in official CSW documents from "rural women and girls" to "women and girls living in rural areas" convinced that the term rural women indignifies women and girls.
2018 was significant for FEMNET in deepening understanding on how macroeconomic policies and practices shape the lived realities of the women  in Africa. The second 
African Feminist Macroeconomic Academy (AFMA)
 was a platform for enhancing knowledge on the intersection of women's rights and macroeconomic policies,  in the context of the fourth industrial revolution and the future of work.

The funding landscape for women's rights work has been erratic and continues to face challenges particularly in responding to lived realities for women and girls in Africa. FEMNET led in 
calling for meaningful resources of women's rights organizations.
On the implementation of the
2030 Agenda for Sustainable Development
, FEMNET as a partner of the 
Equal Measures 2030
, took part in the development of the 
SDG Gender Index
. This is a critical data tool for tracking progress and generating evidence on the implementation of SDG 5 on gender equality and women's empowerment. FEMNET is part of a network of 13 organisations who launched the Deliver for Good Campaign in Kenya.
Holding African Leaders Accountable to fulfilling Obligations and Commitments to Women's Rights to their Bodily Autonomy & Integrity – 
FEMNET in partnership with the Swedish International Development Cooperation Agency (Sida) – through the Embassy of Sweden in Lusaka, Zambia 
launched and embarked on rolling out a four-year strategic partnership
that aims at strengthen women's voices in influencing policies and decisions affecting them at the national, regional and global levels as well as facilitating women's leadership in policy influencing and advancing their rights to their bodily autonomy and integrity. Specifically, the programme focusses on advocating for access to comprehensive sexual and reproductive health and rights (SRHR), prioritizing on ending female genital mutilation, access to safe and legal abortion and ending child and forced marriages in six target countries in four sub-regions of Africa including Zambia and Mozambique in Southern Africa, Tanzania and Rwanda in Eastern Africa and, Liberia and Guinea Conakry in Western Africa.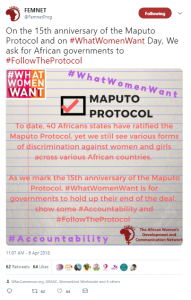 The recent commemoration of the 
15th anniversary of the AU Protocol on the Rights of Women in Africa
 reaffirmed our commitment to continue to intensify our joint policy advocacy efforts with SOAWR coalition in ensuring the 14 remaining countries that have not signed and ratified the Maputo Protocol do so by 2020. This will also include collaborating with the line ministries in the 41 Africa countries that have ratified the Maputo Protocol to domesticate and report to the African Commission on Human and Peoples Rights (ACHPR).
At the 
2nd Girls Summit
, FEMNET supported a delegation of African girls and young women to significantly influence the language in the outcome document – pushing for thinking on policy making on elimination of child marriage to move from 'protecting girls' to punishing perpetrators and criminal actions against all forms of Violence Against Women and Girls.
Through out the year, FEMNET initiated and contributed content to online conversations including: 
#CSW62Africa; #WhatWomenWant; #NothingForUsWithoutUs; #AfricaDay2018; #SawaSouthSudan; #FundHerAfrica; #NikoNaWewe; #JusticeForMoiGirls; #Justice4BankMum; #SRHRDialogues; #KeepWanjikuSafe; #FollowTheProtocol; #ProtocolAt15; #Femonomics; #2ndAfricanGirlsSummit; #16DaysofActivism; #StopGBVatWork; #ILOendGBV; #SRHRDialogues.
In Ghana, FEMNET joined her members and other women's right activists in mobilizing for action and demanding 
#Justice4BankMum
. This was picked by local
Ghana media
, wider citizenry 
and the
President of Ghana
 all calling for swift action in arresting a bank police officer who assaulted a woman/ client who had come to the bank.
In 2019, our focus will be on deepening our membership base and sustain partner relations. Internally, we will continue to reflect, learn and be an organization with a soul rooted on feminist principles and values and driven by our pan-African spirit.
In solidarity and sisterhood!
Memory Kachambwa,
Executive Director, FEMNET
---
Related Posts
The COVID-19 pandemic is a menace posing a threat to everyone, in every society. As of 2nd April
Learn More
Brief on the gendered implications of threats to the mandate of the African Commission on Human and Peoples'
Learn More