#BeBoldForChange; Team Fab Feminists at the Global Goals World Cup
On Sunday 5th March, FEMNET was part of 28 regional teams of passionate young women and girls that participated in the Global Goals World Cup (GGWCUP) that was hosted at the Impala Grounds in Nairobi. This football tournament, unlike normal football matches, was aimed at advocating for the 17 Sustainable Development Goals (SDGs) and participating teams were to choose which goal to play for based on their daily works and passion.
FEMNET was represented by team FAB Feminists and were playing for SDG goal 5 and in particular targets 5.2 and 5.3 that focus on ending all forms violence against women and harmful practices such as FGM, and child marriage.
Team Fab Feminists was composed of women and girls brought together by resolve to see an Africa that is safe for the girls and women, an Africa where women and girls realize their full potential without gendered discrimination and an Africa that appreciates women and girls as equal agents of change.
Members of the team ranged from students to young women working towards the realization of sexual and reproductive health and rights through advancing #SRHRDialogues in their communities and amongst the constituencies to young women politicians.
The football tournament was intended to challenge the stereotypical belief that women's place is at the kitchen and enable women claim their space in the public and male dominated sphere of sports. The fact that it was an all female tournament sent out a strong message; that women too can do and own it! The GGWCUP was not an on the pitch affair only; teams were expected to advocate for the goal they are playing for off the pitch as well in efforts to rally the crowd, raise awareness on the SDGs and give visibility to the issue they were playing for. That being the case, Fab Feminists had mobilized a team of cheerleaders who, just like the playing unit, were young women passionate about a gender equal society and dismantling patriarchy. They cheered the playing unit on; chanting and challenging those in attendance to take action and end Violence against Women.
FEMNET  hosted a photo booth where messages on ending violence against women, female genital mutilation, child marriages were disseminated using various branded items such as hand flags, graffiti and  placards with various BOLD messages. Some of the notable messages were "Blow The Whistle Not My Destiny", "Kick The Ball Not My Body".
Fab Feminists seized the platform to demand for an end to Violence Against Women in both private or public spaces. From the Fab Feminists, the message was clear; women must be included in decision making at the grass root level but also at the policy making and implementation stage.
Fab feminists further decried the need to eliminate harmful practices against women and girls such as Early and forced child marriages that prevents them from enjoying their childhood and denies them sufficient empowerment.
The message was loud and clear; #WhatWomenWant is to KICK OUT All forms of Violence against Women!!
---
Related Posts
The COVID-19 pandemic is a menace posing a threat to everyone, in every society. As of 2nd April
Learn More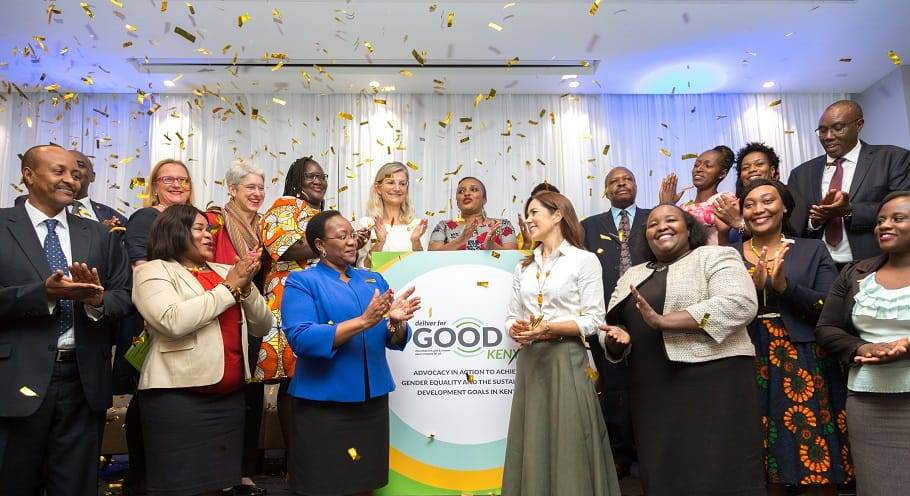 Dear Members, Partners & Friends, Happy & Spectacular 2019! I'm excited and truly grateful for your unwavering support
Learn More