Women's Economic Empowerment Misunderstood
The adoption of the 2030 Agenda for Sustainable Development has heightened the demand for data – including gender data – and amplified discussions around the need for a data revolution globally, including through the Africa Data Consensus. Within these frameworks, global leaders have identified the need for gender data across all areas, including women's economic empowerment. It is important to note that commitments to deliver gender-disaggregated data were made years earlier – for example, the Beijing Platform for Action has existed for almost 25 years. Nonetheless, this commitment is far from being met. My hope is that the 2030 Agenda brings new energy and ambition to delivering gendered data, recognising that in its absence, policy-makers will not be able to make informed and responsive policy decisions and that civil society organisations (CSOs) will not be able to carry out evidence-based advocacy.
According to Data2X, 80% of the indicators under SDG 5 (gender equality and women's empowerment) cannot be measured, and only 13% of UN Member States have dedicated budgets to collect and analyse gender data. At the 2nd High Level Political Forum (HLPF)in July 2017, all African governments that presented national voluntary reports indicated that lack of data was a key challenge to SDG attainment, but they did not provide strategies on how to address this. More generally, my concern is that the attention paid to women's economic empowerment of late in high-level fora (e.g., the High Level Panel on Women's Economic Empowerment and UN CSW61's focus on women's economic empowerment in the changing world of work) may not necessarily result in better data.
In my view, this is the product of various challenges, among them:
a narrow view and understanding of women's economic empowerment;
inadequate measures;
 the adoption of an instrumental approach to women's empowerment;
 the focus on individual women rather than the structures/systems that continue disempowering them and the collective voice of women that works to transform these systems;
and, a disconnect between women's economic empowerment and other aspects of women's empowerment and gender equality such as sexual health and reproductive rights and violence against women.
Narrow Focus
While there is consensus that women's economic empowerment is important, there is no agreement on what it is. CSW61 was testament to this – it was extremely difficult for member states to agree on aspects such as unpaid care work, a living wage, the gender pay gap and the need to address structural barriers such as Illicit financial flows. In my experience, the notion of women's economic empowerment has been largely reduced to entrepreneurship. When asked what governments are doing to economically empower women, the common answer is to establish a women's fund where women can borrow to start their own business. When businesses are asked the same question, the response is often that they are offering loans tailored to support women. Finally, CSO's often mention training and mentoring women in entrepreneurship. This narrow focus presents a challenge to collecting and analysing data that tells the whole story of women's empowerment. In other words, if economic empowerment is understood narrowly, so will the data, thus creating blinkered policy. There is a need for a holistic understanding of women's economic empowerment and how it intersects with other aspects of empowerment, gender equality and women's rights.
Using inadequate measures for women's economic empowerment
Measures of women's economic empowerment are often inadequate. Actors tend to only use quantitative approaches, focusing on readily measurable aspects. For example, when banks do reporting, they document how many loans they have given to women and how many women have paid them back, focusing on business performance instead of empowerment. However, they will not tell you whether the creation of business improved women's livelihoods or if women could decide on how the profits would be used. For a long-time feminists have questioned whether increased income for women necessarily improves their status and ability to renegotiate power relations, especially at the household level. Indeed, sometimes loans given to women may leave them worse off than they were, mainly because of the interest rates they have to pay.
Another example relates to the focus on women's labour force participation as an indicator of their economic empowerment. We do know that when women enter the labour market no one picks up the gendered roles they were doing before within the care economy, thereby creating a double or triple burden for them. Although increased women's labour participation may benefit their families financially, women themselves may benefit little. Therefore, having these data is inadequate to understand the empowerment of women.  We must measure the extent to which the labour market is providing decent work, a safe working environment for women and the extent to which unpaid care and domestic work are redistributed.
Focusing on individual women as opposed to systems and collective voice
Women's economic empowerment efforts have focused on empowering individual women at the expense of producing a conducive environment for collective women's empowerment. Furthermore, structural barriers such as imbalances in global trade and macro-economic economic policies continue to be ignored. While CSOs and women's rights organisations play a key role in challenging the status quo and demanding the transformation of oppressive structures and systems, these voices are often missing at the table where decisions on macro-economic policies are made. This is why FEMNET is working to mobilise the voices of African women. By doing so, they can engage in macro-economic policies by advocating for models that put women's rights at the centre. Gender data must therefore focus on assessing the extent to which systems and structures that keep women disempowered are being transformed. Only then can we have the sustainable economic empowerment of women. We must re-examine our understanding of empowerment before we measure it. After all, data is only a tool not the solution.
Blog written by Dinah Musindarwezo, Executive Director of FEMNET- African Women's Development and Communication Network as part of the Deliver 2030 blog series on women, work and economic empowerment.  
It was first published here on the Deliver 2030 website
---
Related Posts
The COVID-19 pandemic is a menace posing a threat to everyone, in every society. As of 2nd April
Learn More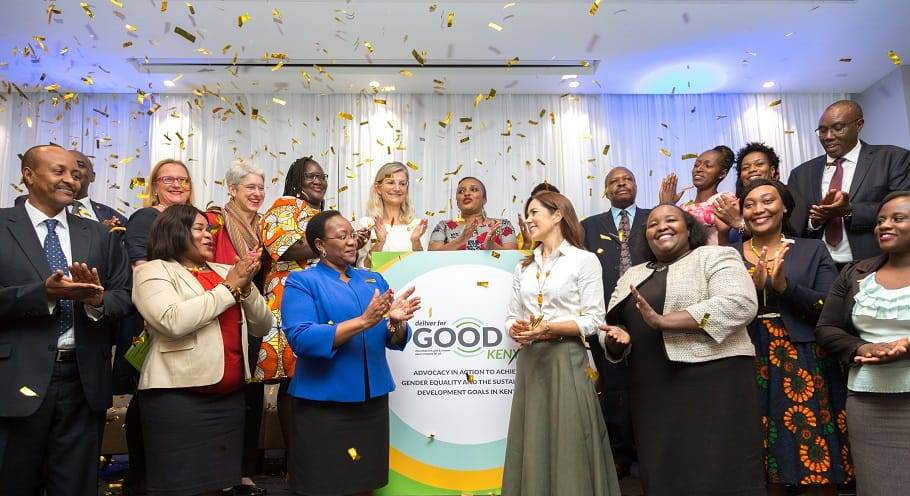 Dear Members, Partners & Friends, Happy & Spectacular 2019! I'm excited and truly grateful for your unwavering support
Learn More