Communique – Fourth African Women in Political Leadership Conference
CONFERENCE COMMUNIQUE
The African Women's Development and Communication Network (FEMNET) in partnership with UNDP and the NGO Gender Coordination Network (NGOGCN) organised the Fourth Regional Conference on African Women in Political Leadership, at Sogecoa Golden Peacock Hotel in Lilongwe, Malawi, from 26th to 28th November 2012.
The Conference brought together approximately 60 delegates from 21 countries including Botswana, Burkina Faso, Cameroon, Congo Brazzaville, Egypt, Ethiopia, Kenya, Libya, Malawi, Mali, Mauritius, Nigeria, Rwanda, Swaziland, Togo, Tunisia and Uganda.
Conference participants included a cross section of seasoned and young women politicians, Members of Parliament, Ministers, senior government officials, political aspirants from countries holding elections in 2012-2015, leading women rights activists, civil society and research organisations engaged in women's leadership development, and key development partners supporting women's political participation initiatives.
The theme of the conference was: Interrogating Gender and Elections and Envisioning Women's Leadership Post 2015.
The workshop was officially opened by Her Excellency Mrs Joyce Banda, President of the Republic of Malawi, who also officially launched the FEMNET Herstory book, a documentation of FEMNET's journey over the last 25 years.
The key objectives of the Conference were to discuss and address the key impediments to women's full participation in electoral processes, and deliberate on goals for women's participation in decision making for the post 2015 development framework.
THE CONFERENCE PARTICIPANTS:
ACKNOWLEDGED that commendable progress has been made in increasing women's representation in political leadership in Africa, particularly the continental average of 20.3% representation of women in parliament;
RECALLED the existence of important enabling frameworks for women's participation in decision making, such as the African Charter on Democracy, Elections and Governance, the SADC Gender Protocol, the Protocol to the African Charter on Human and Peoples' Rights on the Rights of Women in Africa, national constitutions and laws, among others;
AFFIRMED that democracy without women's equal participation is flawed and OBSERVED that complex challenges continue to limit women's equal participation such as poor political party internal democracy, illiteracy among women, a lack of confidence in women's leadership including by the media, and lack of sufficient resources to run successful political campaigns;
RECOGNIZED that politics and political campaigns in Africa continue to be highly monetised, leading to high levels of corruption and unethical practices, and additionally serving as a barrier to women's participation;
CONCERNED that the media perpetuates negative depictions of women and women leaders, and too often provides gender-blind coverage of electoral processes;
NOTED with grave concern, the gross violations of women's and women human rights defenders' rights perpetrated by religious extremism and the blatant abuse of universal human rights principles in Egypt, Libya, Tunisia and northern Mali;
COMMENDED Her Excellency President Joyce Banda and other women leaders for practicing caring economics and value based leadership as a testament to a different style of leadership that women can espouse that prioritizes human dignity and equity;
APPLAUDED His Excellency President Paul Kagame and the Government of Rwanda for their demonstrated political and practical commitment to gender equality, including women's equal participation, as demonstrated by the 56% representation of women in decision making;
WELCOMED President Banda's commitment in her remarks to urgently ratify the African Charter on Democracy, Elections, and Governance;
THE CONFERENCE PARTICIPANTS THEREFORE:
a) CALL upon African governments to lead the way by ensuring that:
• Electoral processes are reformed with a view to levelling the playing field for women to effectively participate in all stages of the electoral cycle, including through affirmative action initiatives within the law and targeting both elective and appointive positions
• Political parties create space for women in senior party positions through affirmative action embedded in party constitutions
• The African Charter on Democracy, Elections and Governance, the African Union Protocol on the Rights of Women and the SADC Gender Protocol are ratified, domesticated and implemented in order to enhance the meaningful participation of women in decision making processes
• Women MPs receive sufficient orientation and consistent support in between elections to increase chances of retaining parliamentary seats
• Monitoring and evaluation tools are developed to track gender responsiveness of electoral processes and reforms
• National budgets are gender responsive in order to promote women's participation in economic and political development at all levels of government
b) ENCOURAGE Civil Society Organizations to remain committed to:
• Step up the fight for reform of policies and laws that hinder equal participation of women, and advocate for comprehensive institutional transformation of electoral processes
• Advocate for the meaningful involvement of women in electoral processes, moving away from stereotypical use of women in campaigns
• Promote meaningful partnerships with men to promote gender equality including in decision making
• Hold government accountable to the commitments made to women's political participation in Africa
• Stand in active solidarity with African women's struggle for equality, human rights and democracy such as in the North African states and northern Mali
c) URGE Development Partners to: Invest in institutions and processes that strengthen women's political participation including through appropriate, timely and regular capacity building of women politicians
d) APPEAL to Media outlets to: portray a balanced and objective image of women leaders through substantive rather than sensational and scandalized reporting, and accord women leaders a fair share of media coverage
The participants at the Fourth Regional Conference for African Women in Political Leadership commit to:
1. Support the quest for affirmative action and proportional representation systems in all African governments and political parties
2. Follow closely the constitutional reform processes in Egypt and other North African countries that underwent an "Arab Spring" and support women's human rights defenders to advocate for inclusive processes and constitutions that embed women's and girls human rights
3. Sustain dialogue and engagement between media houses, female politicians and women rights organisations to build mutual trust and ensure appropriate information flow to the public about women.
4. Support the take off and operationalization of the LEAD Fund for African women in political leadership
Additional Info
[download id="2337″]
---
Related Posts
Press Statement For Immediate Release: Nairobi, 29th August 2020 Ten years after the promulgation of the Constitution of
Learn More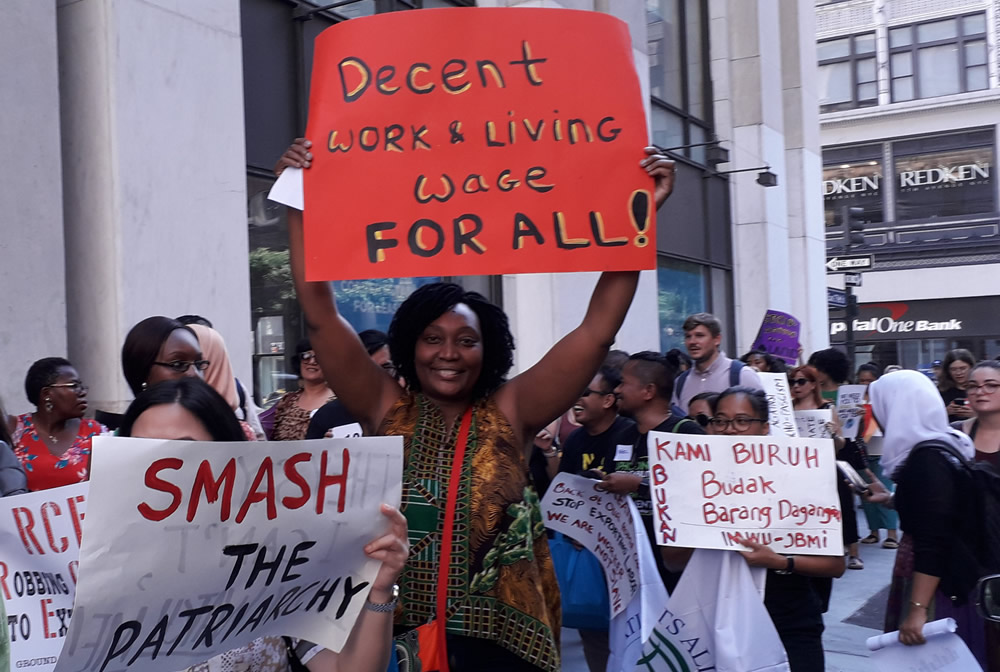 New York, 19th July 2019 – The African Women's Development and Communication Network, FEMNET alongside hundreds of women's
Learn More