Challenging Dominant Narratives on Climate Change, Amplifying the Voices & Priorities of Women & Girls in Somaliland
On the maiden AACJ team visit to Somaliland, the newest state (though unrecognized by the AU) in Somalia region, we found ourselves in unfamiliar territory. The area reminds one of the northern town of Mandera, or Garissa in Kenya, but there are subtle differences. Even though all indications were that we needed to exercise caution, we did not anticipate the thorough security checks that we were subjected to on our way into and out of our hotel every single day. At the airport, no stone was left unturned as there was thorough security checks, 3 to be precise. In a way, this was a bit intrusive but then again it was an assurance of safety for us as travellers.
We got intrigued when we saw a toilet sign that read ''Men to the left because women are always right''. Our impression was this is humorous but at the same time signals some degree of progressive ways of thinking. We also did not anticipate that the food would be savory and delicious. From the spiced tea, samosas, flatbreads and curries, Somali cuisine represents a blend of cultures and culinary expertise.  The hospitality is topnotch with very kind hotel staff that were ready to serve. The area is dry, with several failed rainy seasons after a forty-year drought that has plagued the Sahel region, and the dusty streets and dry rivers are testament to this. One would anticipate that the area would be extremely  hot, but during our visit, the driver mentioned that this was their ''winter'' and sure enough the weather was favorable with cold evenings.
Our partner, NAGAAD Network, received us warmly and we proceeded to have a two-day meeting where we spoke at length about the AACJ project. Somaliland is one of eight countries where the AACJ project is being implemented, with a focus on building intersectional movements with women, girls and other marginalized groups, challenging dominant narratives and telling stories of how climate change is affecting the region, and influencing policies that would advance the climate agenda. One thing that struck us, and was indeed mentioned by the partner, is the immediate need for projects that would increase resilience of communities to the prolonged drought that has led to reduced water supply and other effects. Such projects would have a ripple effect on several sectors, like agriculture, which in turn would impact food security and nutrition.
In Somaliland, and indeed all of Somalia, we learned that climate migration is not a foreign phenomenon, as there are many internally Displaced Persons (IDPs) that the network supports in areas which are unoccupiable due to the prolonged drought and conflict arising from the clamour for dwindling natural resources. Water is one such resource that we came to learn is in scarce supply, and in rural areas many people buy water and store it in earth dams and berkads (underground water storage) which also store rainwater whenever it rains. Because of climate migration, issues such as gender-based violence( GBV) are prevalent, and NAGAAD Network in 2022 responded to this by establishing an on-site call centre with a free hotline for reporting and escalating GBV cases. They usually receive three such cases in a day. Additionally, the network has a healing centre where these survivors are supported.
Another thing that struck us during our discussions was the the existing narratives among communities, that the drought situation in the country is mostly because of people's actions, making it a self blame affair. While human actions would contribute to climate change, we think this is an opportunity to demystify what climate change really is, with information that there are global players who have significantly played a major role in the current climate crises.
NAGAAD Network is a women's rights organization founded in 1995, from which hundreds of women have been nurtured into the women's movement and into political and civil society leadership. The network, which has offices across Somaliland, in Puntland and in Kenya, has produced the first woman Minister for Environment and Climate Change. We got to meet the amiable minister, Ms. Shukri H. Ismail Mohamoud on 14 March 2023, after she had just attended the launch of the country's third national development plan. Interestingly Ms. Shukri is a former founding member of NAGAAD, was part of the CSO movement before transitioning to public service. Conscious of the multiple threats that the climate crisis poses to women in this culturally rich but strict environment, the minister was happy to see NAGAAD Network implement the AACJ project. She was also keen to engage further in climate policy development for Somaliland, and it is our desire that this is delivered in gender sensitive and gender responsive ways that will remarkably transform the young country. In Somaliland, with the multiple ripple effects of the climate crisis, the need for loss and damage financing has never been more dire.
As a culturally strict terrain, for our meeting with the minister for Environment and Climate Change, and with the Director General for Social Services, we wore traditional Somali garb. We had on beautiful colorful dresses that ran past our ankles, with scarves tied over our hair, hiding our necks.
NAGAAD Network has worked closely with the Social Services Ministry on the Sexual Offences Bill. This work with the ministry meets a critical need of climate IDPs, and especially women and girls.
As we bade farewell to Somaliland, we visited the market where we got beautiful Somali clothes including abeyas which we knew we would wear during other upcoming visits and to Muslim Africa. We also sampled cuisine from an upmarket restaurant and later made our way to the airport which was a few minutes away from where we were putting up.
We were resolute about the need for our work in Somaliland to positively impact women and girls, through knowledge sharing and co-creation, in order to frame climate justice within context, and to document narratives on the multiple ways in which climate change has affected this state. We related the struggles of Somaliland with those of the women's movement, where we exist but our needs are secondary even though we contribute significantly to whole societies. Finally, we were excited to work with our partner to influence positive policies, that would deliver climate finance to the state in nuanced ways that prioritize the needs and lived realities of women, girls and multiple vulnerable groups, and those that would truly bring all voices to the table as the world transitions to renewable energy in a state that heavily depends on wood fuel for cooking.
This blog was written by Anne Songole with inputs from Josephine Ireri and Maureen Olyaro.
---
Related Posts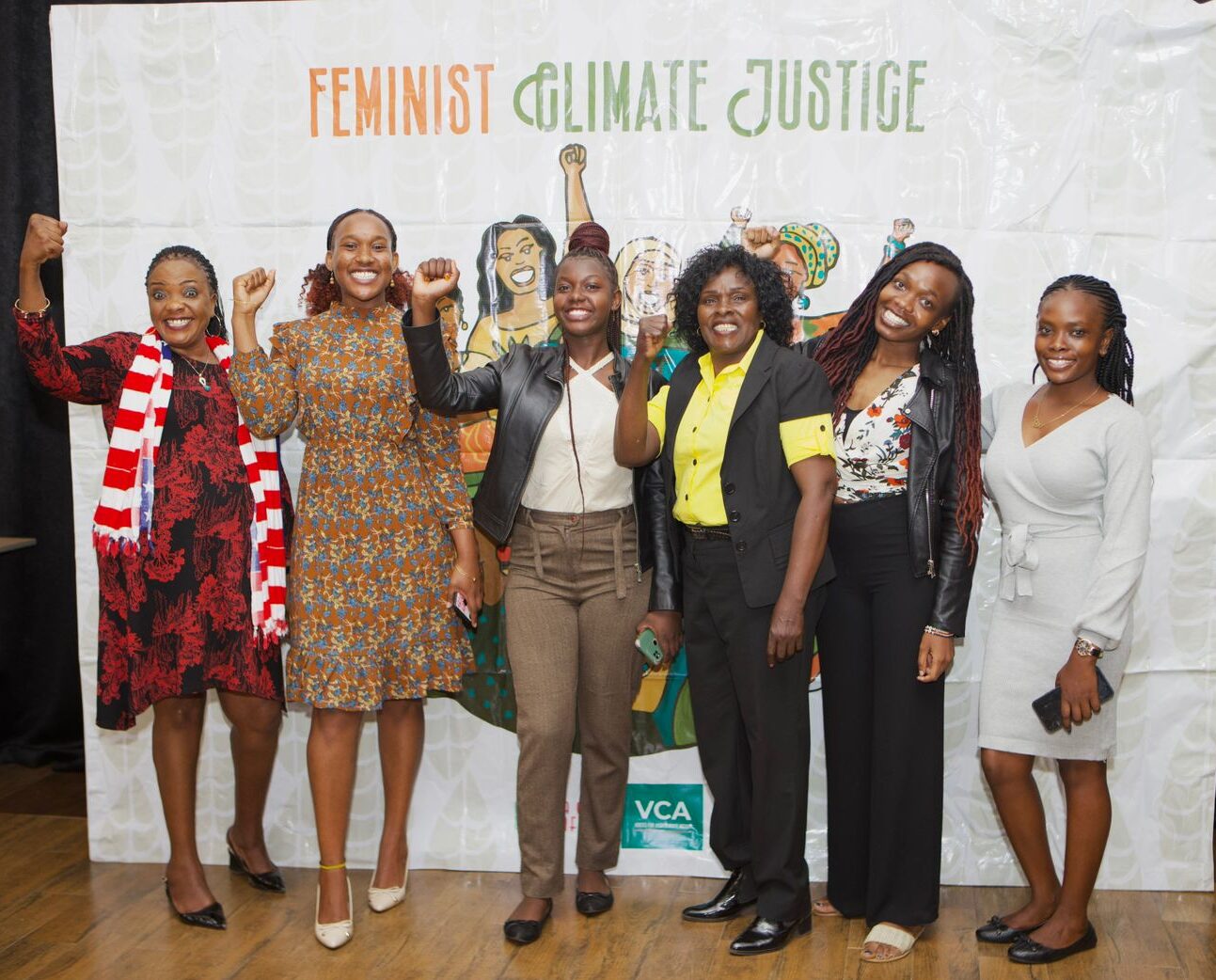 As Nairobi's vibrancy reaches a crescendo, the world remains fixated on the Africa Climate Week taking place at
Learn More
When I stepped into the setting of the African Feminist Academy for Climate Justice, I could feel a
Learn More